Take 3 young dads, with 13 young children between them, a passion for something new, and a whole load of creativity, and you end up with something rather magical!
Personalised Name Labels. Available in a huge number of designs!
With the birth of these innovative ideas came the start of something special. "A comprehensive range of affordable, premium quality, designer personalised, custom made products for kids"

.

Started in 2006 by Mike and Rach, a young married couple with (at the time!) two very young children in Australia, custom made products started to be made and shipped to approving customers. In a short time, their customer base started to grow beyond the capabilities of their small 'spare' bedroom and two pairs of hands. Eventually, Mike enlisted the help of an old friend. He had studied Industrial Design at University with Nick, and they continued to do what they did the best and news of their products started to spread throughout Austrailia.
Their Wall Canvases come in some wonderful designs!
After 3 increasingly successful years and 3 'upgrades' in premises, along came Ben. Ben had an MBA and worked as a Fund Manager for Goldman Sachs. With a little encouragement, Ben (along with his 4 young children) joined the team full time.
Now, nearly 6 years on, word is really getting around about their imaginative, attractive products!
"From day 1, they'd been sending products all over the world (from the spare bedroom world headquarters). Headquarters was located in the leafy eastern suburbs of Melbourne, Austrailia, and everything was sold from mooo.com.au. In 2011 they decided it was time to really go global. It was time to ditch the .au, time to build a brand new website, time to build a brand new brand! They headed to the UK and tinyme.co.uk was born. The first stop in the global fight against boring kids stuff ...!"
A fantastic range of Personalised bags in a number of styles. Start the term in style!
On Thursday, 6th October, 2011, Mike and Ben brought a taste of Tinyme to the Courthouse Hotel in London to introduce their brand to a number of Bloggers. The event was arranged through Blog Match and gave us the opportunity to learn about Tinyme and to get to know the faces behind the magic a little better, as well as enjoying the rare 'child-free evening out! Throughout the informal evening, we were able to chat to Mike and Ben about the products that they are so passionate for and about the upcoming products that are exciting them! Sitting at a dinner table together, chatting about differences & similarities in our country's cultures, sharing stories of blogging experiences and hearing more about the launch of Tinyme was a great way to 'mingle'!
Surprise your little ones with a Personalised Reading Book which will feature their name on both the exterior and interior of the book!
In addition to the lovely items you can already find on their easy-to-navigate website, Tinyme are eagerly anticipating the success of some new products that are due to launch soon. These plan to include announcement cards, invitations, drink bottles and framed artwork, all of which will, of course, be customizable!
During the evening, we were lucky enough to be able to browse some examples of their products which are brilliantly made, each with a very special personalisation which would make any child (or adult!!) feel positively unique! The wall was proudly displaying a sample of their beautiful, self adhesive wall stickers which would be ideal for any little girl's or boy's bedroom or playroom!
The range of Wall Stickers are strong and durable and will survive being moved from place to place!
With their ingeniously organised stationary, their versatile name labels, their extraordinarily eye catching wall art with matching height charts, their superb range of child friendly bags, and their ultra special personalised reading books, Tinyme are producing items that are loved by all ages and will certainly transform any child's 'space' from the ordinary to something totally individual and simply unique! Every item is made to order and is, at present, made and shipped from Australia. However, the time you will have to wait between ordering your personalised goods and receiving them is still only a couple of weeks, which I think is pretty quick work!! And their shipping costs, although adjusted to reflect this, are not as high as you would expect. With the support and what is sure to be a growing custom base in the UK, they hope to, one day, secure premises here so that their order turnaround can be even quicker.
A beautiful range of fully customizable stationary for all the family!
With their immeasurable passion for their products and their laid-back yet highly professional style in which they run their business, they are a company that I would highly recommend to anyone looking for that special gift!
I, for one, had a fantastic evening with Blog Match and Tinyme, and am very appreciative for the opportunity to meet with the faces behind the brand and to talk to other bloggers face-to-face rather than from behind a keyboard!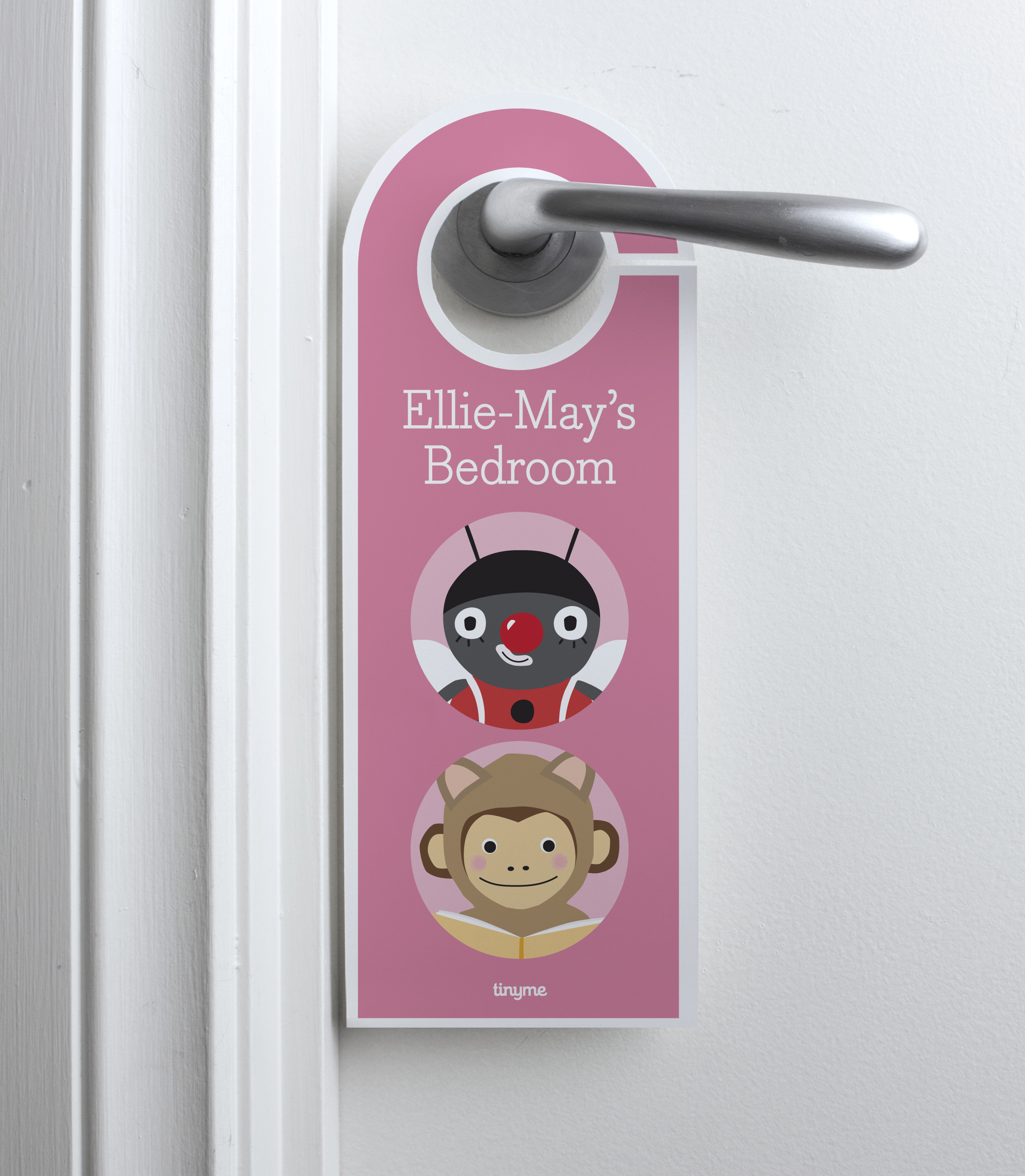 These wonderful door hangers can be found amongst the FREE downloads available when you register on the website
If you would like to see more of what the guys at Tinyme are making, the full range of their products can be seen on their website, and you can link up with them through their Facebook page where you can keep up to date with their latest news and offers. Also, while you're at it, why not sign up to receive the Tinyme Newsletter on their homepage which will also give you access to
their selection of FREE printable activities available for kids as well as an attractive 10% discount on your first order!
Thanks Tinyme.co.uk for introducing us to your wonderful products!