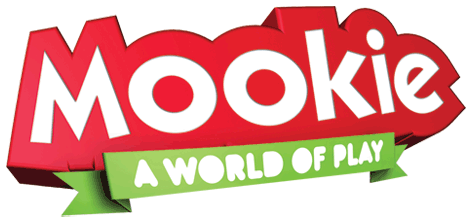 Mookie is a global sports and outdoor toy company and distributor. Established in 1987, the company is 100% privately owned. Within 6 years, the company had established its wholly owned Manufacturing and Distribution Centre. This set up has grown from 30,000sq ft to its current (upward of) 100,000sq ft! Impressive! Based in Flitwick, around 40 miles North of London, Mookie's Head Office site is home to Sales, marketing, Product Development and Warehousing.
A couple of weeks ago, mummy placed a big cardboard box in the middle of the lounge floor. When she said it was a parcel for me, I needed it open straight away! I slid the box along the floor to where mummy had sat down and realised it was so lightweight, I could probably have lifted the whole box in the air (if my arms were longer!!) "It's empty" I said to mummy!!
But it wasn't empty! When the box was open, mummy told me to lift out what was inside.
Weighing just 865g, I can carry it around the room with me, no problem, especially using the convenient carry handle at the front which I can also hold on to whilst I am riding on the Whirlee. I am used to much heavier and wooden ride-on toys, so this was going to be a very different experience altogether!
The Whirlee is so lightweight at just 865g!
You can tell straight away by the way this brilliant toy is designed that it is meant for the most active of kids, and mummy says I definitely fall into this category! As you can see, we have wooden flooring at home, and this means I can go really fast on my Whirlee! Each of the 4, 360

° rotating

castor wheels spin individually, adding to the excitement as this ride-on often seems to have a 'mind of its own' and allows me to WHIRL in all directions around the room!
The Whirlee is designed for children from 12months upwards
At firt, we thought the Whirlee looked quite small and close to the floor, but this means that with its freedom of movement, I am still able to control the direction in which it moves ... most of the time! I can Whirl my way into a tight corner of the room, and get myself out of it again without getting off the Whirlee! I can weave my way in and out of the obstacle course I create with my toys every day without any problem at all! Best of all, I can zip from one corner of the room to the other in record time, which is so much fun, especially when I manage to run over daddy's toes!! (Ssshhh ... he thinks it's an accident every time!)
"Ooooops ... Sorry daddy!!"
The Whirlee design means that they can be stacked if your home has more than one, and its compact size makes it convenient when packing it into the back of the car and transporting it from place to place.
My Whirlee is blue with an aeroplane design on the side. I love aeroplanes, and I think Mookie have put these on the side of my Whirlee because of the speeds I can reach on it! I'm sure I can go faster than anyone on this!! However, the Whirlee also comes in red which looks really smart too!
The red Whirlee has a lovely picture of a train on the side
Mookie Toys have a very special Mission Statement:
To be the number one supplier in the outdoor toy & sort sector on a global basis.

To listen to customers and provide exceptional service.

To develop innovative, high quality product.

To build Swingball as a global brand.

To provide cost effective products using leading technology.

To develop and maximise our licensing programme.
With the Whirlee being strong and durable, attractive and creative in its appearance, and contemporary & unique in its function and capability, Mookie's Whirlee has definitely delivered these promises! The Whirlee is affordable and accessible and can be found at Mothercare for the excellent price of just £19.99!
"I know it's not a teddy, mummy, but I can still give it a hug, right?!"
Thank you Mookie Toys! Keep making fantastic toys like this, and I'll love you forever!!!
To read more about Mookie Toys and view their full range of wonderful products, visit their website